Marc S. Goldman MD
Chief of Orthopaedics, Medical City Hospital
Board-Certified Orthopaedic Surgeon
Fellowship-Trained in Hip and Knee Reconstructive Surgery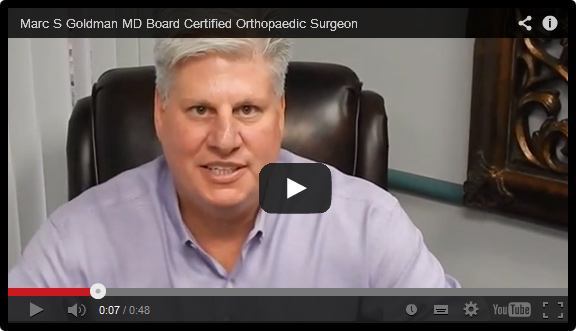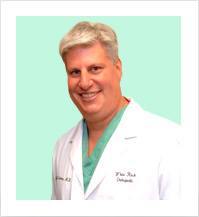 Marc S. Goldman MD
Marc S. Goldman, MD has been performing hip, knee, and shoulder reconstructive surgery in Dallas since 1996. He is considered by many orthopedists to be the "go to doc" for their revision hip and knee surgery patients. While a native of New York, Dr. Goldman received his Bachelors of Science degree, Magna Cum Laude, in chemistry from the University of Maryland. He continued on at the University of Maryland Medical School where he received his medical degree, interned in general surgery, and completed his residency in Orthopaedic surgery. Dr. Goldman was awarded a fellowship in reconstructive hip and knee surgery at the Anderson Clinic in Arlington, Virginia, under the supervision of Drs. Charles and Gerard Engh. As an Engh Fellow, Dr. Goldman performed hundreds of reconstructive surgeries using cutting-edge technology.
Dr. Goldman opened his own practice, White Rock Orthopaedic Association, in 2005 where he was the first Orthopaedic in Dallas to be utilizing digital x-rays, electronic prescriptions, and electronic medical records. With these advanced technologies, Dr. Goldman is able to treat his patients more effectively and efficiently. His patients often marvel at how little time they waste sitting in the waiting room. In 2013, Dr. Goldman joined the Southwest Joint Replacement Center concentrating his practice on the treatment of arthritic hip, knee, and shoulders.
As an experienced physician with more than 19 years of specialization in total joint replacement surgery, Dr. Goldman takes a highly personal approach to caring for his patients. He believes that the most important aspects of providing quality care are listening to the needs of his patients, presenting treatment options, and establishing a relationship with his patients. "A well informed patient will approach the surgery and the postoperative experience with less apprehension and greater enthusiasm which leads to better outcomes."
Married with a son, Dr. Goldman enjoys playing tennis and basketball and spending time with his family and friends.
Training
General Surgery Internship

: University of Maryland Hospital, Baltimore, Maryland

Orthopaedic Surgery Residency

: University of Maryland Hospital, Baltimore, Maryland

Reconstructive Hip and Knee Surgery Fellowship

: Anderson Clinic, Arlington, Virginia
Dr. Charles A. Engh and Dr. Gerard A. Engh
Professional Affiliations
Fellow, American Academy of Orthopaedic Surgeons
Texas Medical Association
Dallas County Medical Society
Hospital Affiliations
Baylor University Medical Center, Dallas, Texas
Doctors Hospital at White Rock Lake, Dallas, Texas
Medical City Hospital, Dallas, Texas
Methodist Richardson Regional Hospital, Richardson, Texas
Practice Specialties
Hip Replacement Surgery
Knee Replacement Surgery
Shoulder Replacement Surgery
Reconstructive Hip Replacement Surgery
Reconstructive Knee Replacement Surgery
Total Joint Replacement Surgery
Revision Total Joint Replacement Surgery
Procedures & Conditions
Minimally Invasive Hip and Knee Surgery
Partial Joint Replacement Surgery
Knee Arthroscopy
Knee Tendon Repair
Fracture Repair and Treatment
Fracture Surgery
Shoulder Arthroscopy
Steroid Injections
Physical Therapy
Education:
Undergraduate:

University of Maryland
B.S. Magna Cum Laude
1982-1986

Medical School:

University of Maryland at Baltimore
M.D.
1986-1990

Internship:

University of Maryland Hospital
General Surgery
1990-1991

Residency:

University of Maryland Hospital
Orthopaedic Surgery
1991-1995

Fellowships:

Anderson Orthopaedic Institute
Arlington, Virginia
Total Joint Replacement
(Hip, Knee, Shoulder)
1995-1996

John Hopkins University
Annapolis, Maryland
Mini Spine Fellowship
1996
Private Practice:
Dallas Bone & Joint Clinic, Association October, 1996 – July, 2005
White Rock Orthopaedic Association July, 2005 – May, 2013
Southwest Joint Replacement Center June, 2013 – present
Medical License:
Board Certification:
American Board of Orthopaedic Surgeons
Original certification date: July 16, 1999
Recertification: 1/1/2010 – 12/31/2019
Publications:
Anatomical Variations of the Musculocutaneous Nerves in the Arm Journal of Orthopaedic Surgery, 1997
Hospital Affiliations:
Baylor University Medical Center – Dallas, Texas
Doctors Hospital at White Rock Lake, Dallas, Texas
Chief of Staff 2003-2004
Medical City Hospital, Dallas, Texas
Methodist Richardson Regional Hospital, Richardson, Texas
Professional Memberships:
Fellow, American Academy of Orthopaedic Surgeons
Texas Medical Association
Dallas County Medical Society
Awards:
Top Doctors, Orthopaedic Surgery
2009-2014, Consumers Research Council of America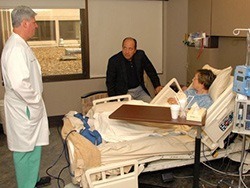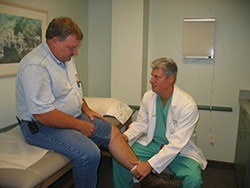 Dr. Marc Goldman
10611 Garland Rd
Dallas, TX 75218
7777 Forest Lane
Dallas, TX 75230

(972) 566-5564